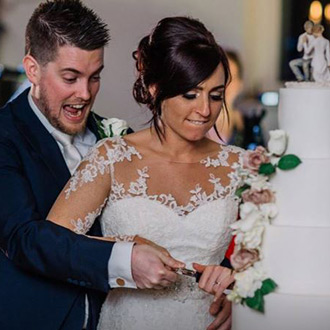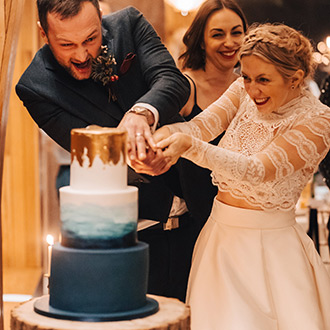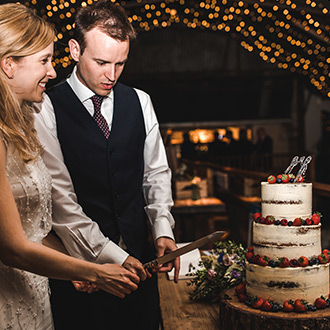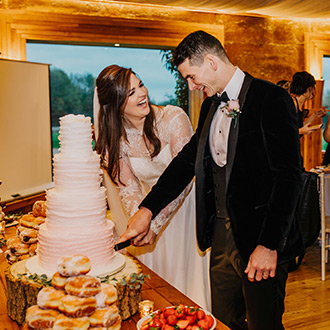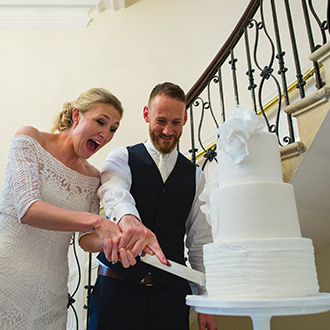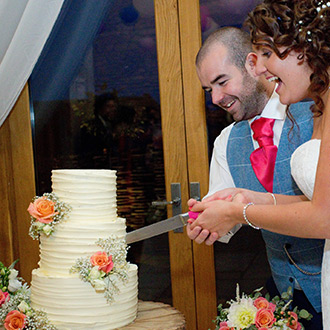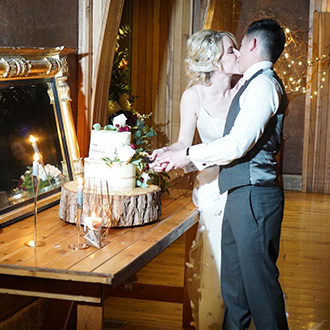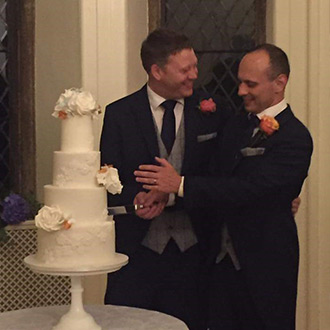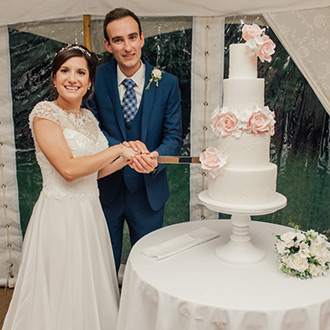 Real Weddings
Read what some of our lovely couples have to say...
"Claire was incredible! From our first meet Claire was very friendly and open during our conversation, we were made to feel completely at ease and even got to taste some of her amazing creations on the day. Claire made everything about ordering the cake completely stress free for us, she contacted us 5 weeks before the wedding to finalise design and flavours and on the day itself we had so many compliments for the cake both how delicious it tasted and how beautiful and classy it looked. Would definitely recommend in the future! Thank you!"
Stacey Brown – Hyde House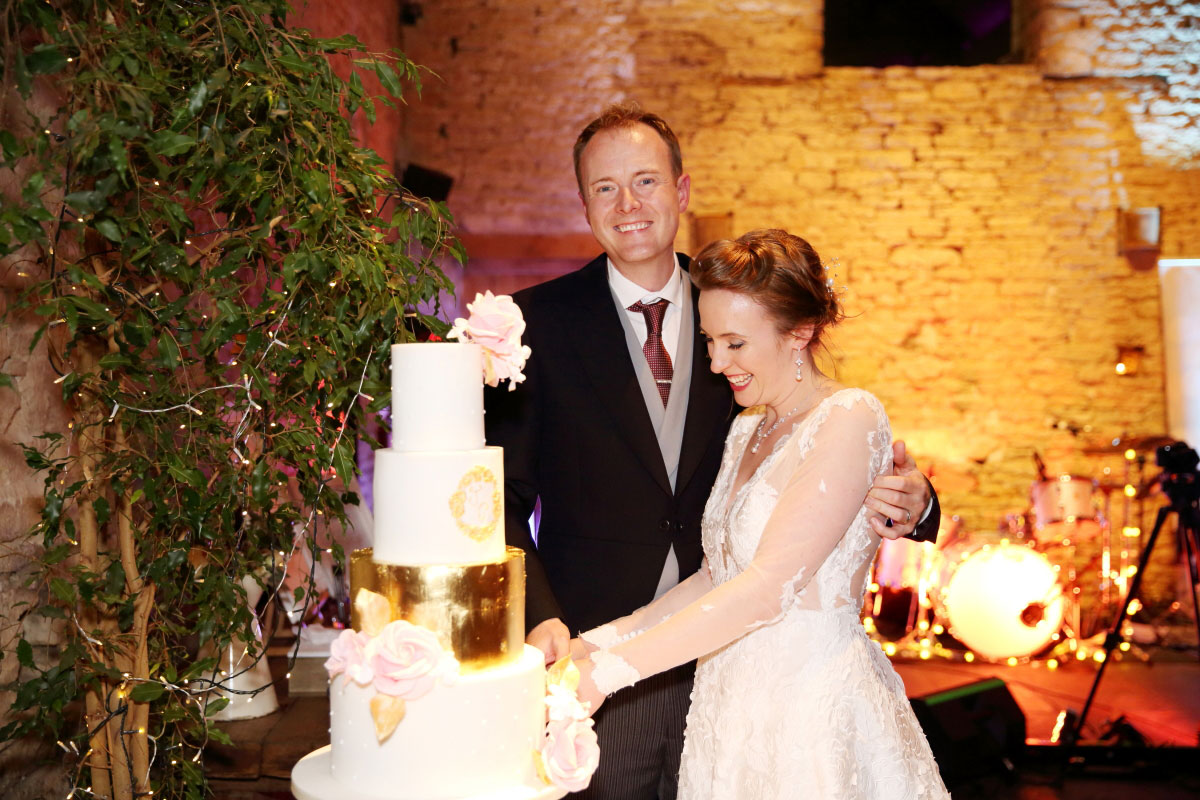 "Our experience with Claire from Cake Daydreams was fantastic from start to finish. Our wedding cake was beautiful with some gold leaf detail, delicate sugar flowers and not to mention it tasted delicious! Claire also made some macaroons for us for our wedding favours which also went down really well. Claire was so helpful throughout the planning process, we had a tasting session at her kitchen to help us pick our flavours (which she worked around my shifts) and even adapted one of her flavours for us (chocolate and cherry - yummy!). We were sent a drawing of our cake and some detail pictures which allowed us to tweek the design and we even had a choice of cake stand. Hands down we would use Claire again - now we just need to find an occasion! Thank you for everything!"
Chelsea & Justin – Cripps Barn
"Claire was amazing, the cake was beautiful, the painted flowers were astonishing and the sugar flowers so intricate - it was also incredible tasty! The fruit cake turned out to be very popular with my relatives but our favorite remains the cherry bakewell. The service we recieved from the moment we engaged claire, through to her consultation and delivery on the day were impeccable. I lost count of the number of compliments on our cake and it's all thanks to Claire. Thank you so much!"
Sarah & George – Elmore Court
"Claire was fantastic from start to finish. I knew as soon as I walked into her kitchen she was going to make our wedding cake. A super warm and friendly welcome. Listened to our ideas, and made it better than I ever imagined. The matching fruit cake for my family cake stand was just as beautiful. Wonderful designs that tasted even better. Everyone loved the flavours, and she's even converted non fruit cake eaters to like it! So so glad we found Claire! Thank you xxx"
Katie & Oliver – Clearwell Castle
"From the moment we met Claire we knew we were going to go with her. She was such a welcoming person, and there was no pressure at the taster session prior to making our decision. Tea, cake and a chat; that helped Claire and us envision how we wanted the cake. As soon as I tried her cake we were sold - best cake ever! 
On the wedding day she was there just before my ceremony which meant no one saw the cake until we came out of our ceremony and we (and everyone) loved it! 
Thank you Claire! We'll be back next year for an anniversary cake!"
Helen - Eastington Park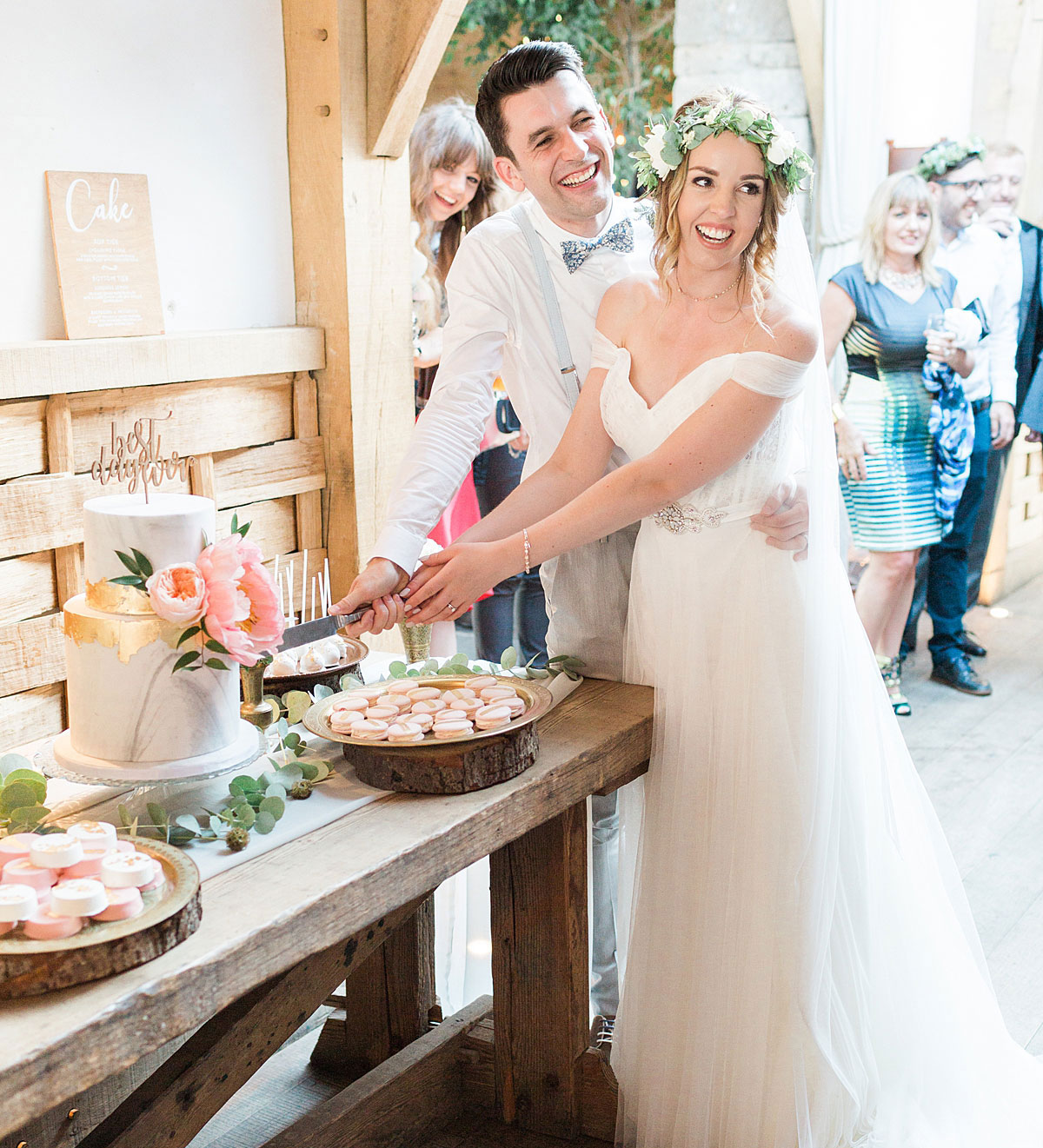 Thank you again for all you did to make our wedding day perfect! Your cakes were stunning and they went down so well with the guests! Thank you also for our lovely thank you card with the photo of our cake on! Such a lovely keepsake!
Lauren & Dan – Cripps Barn
"Once you have met Claire or tried one of her beautiful cakes, you will not go anywhere else. Not only are her cakes stunning they melt in your mouth and are absolutely gorgeous! Claire at Cake Daydreams created our wedding cake, and a creation it was. Four tiers of cake paradise! Everybody commented on how beautiful it was - To look at and eat! Most importantly though as a customer you feel completely listened to. Claire listens to your ideas, gives you advice where you seek it and takes all of that into account when making the cake, she does not force ideas on you, nor is anything too much trouble. I would recommend to anybody! Thank you Cake Daydreams! xX"
Kate & Liam– Priston Mill
"Thank you so much Claire for my amazing wedding cake. Absolutely stunning and beautiful. Everything I wanted, so many compliments.I told Claire my colour scheme and to keep it simple and allowed her to create what ever she liked. She made it absolutely perfect to what I wanted. So elegant and perfect. Would highly recommend, great communication, friendly and extremely welcoming and professional.
Thank you again."
Charlotte Jarvis – Clearwell Castle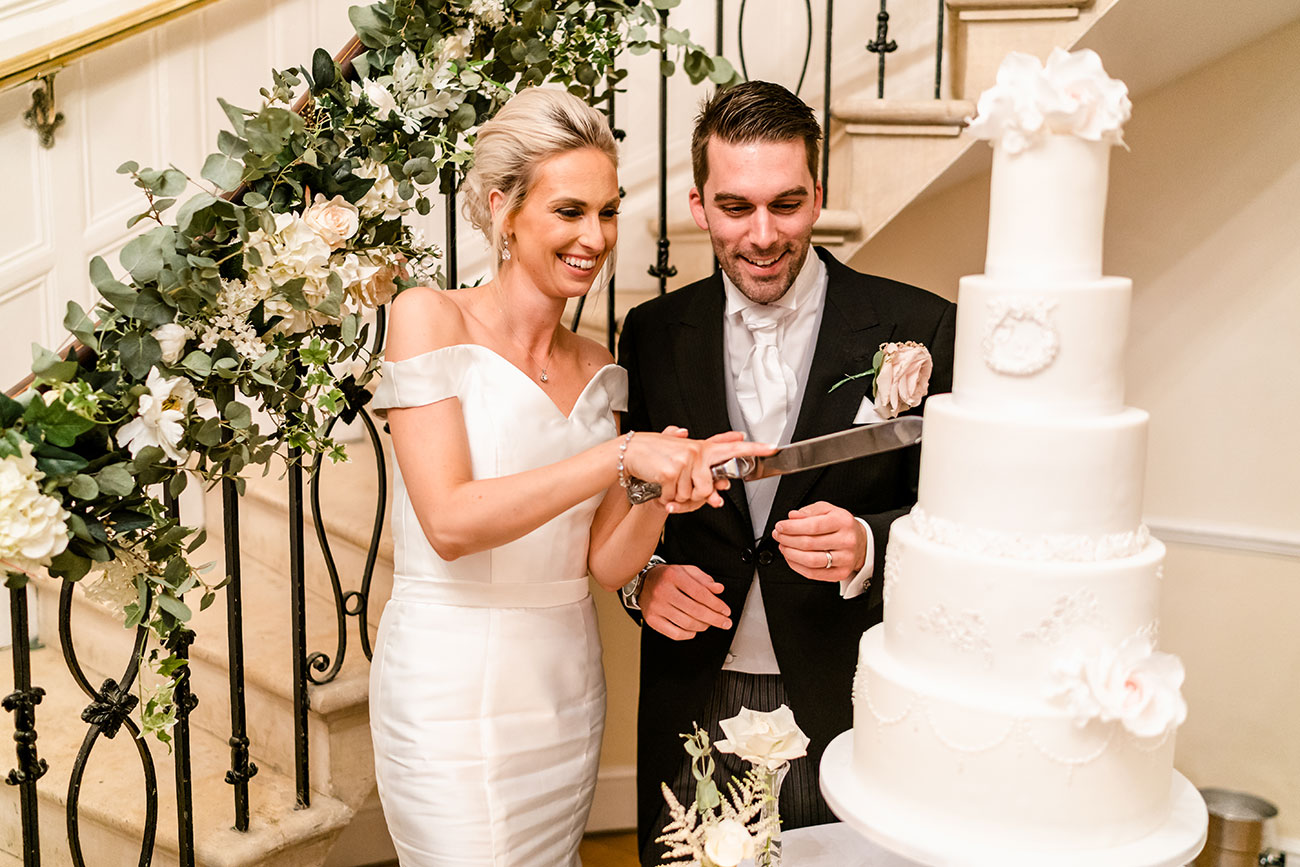 "We would like to THANK YOU, for the most amazing, beautiful cake for our wedding day. Working with you has been a sheer delight! From your friendly initial emails, to visiting your homely and cosy kitchen for cake tasting, to the exciting detail of designing a wedding cake to our spec and being so flexible in regards to us wanting fake tiers. Working with you was a breeze! You managed to design the cake that I saw in my mind and all of our guests were completely blown away by it. I recommend you to every bride that comes here asking who I chose for my wedding cake on my special day!"
Lisa & Joe – Eastington Park